Berth 77 (Ports O' Call) - San Pedro
Printer Friendly Map to the Boat (394kb .pdf)

2500 PSI Air fills - Steel Tanks (80's & 95's) & Weight Belts Provided


Unlimited Air fills


First Class meals included ~ all meals prepared fresh and served buffet style


U.S. Coast Guard SO/AS certified for multi-day extended-range Dive Trips


Single-day trips and Multi-day trips (Liveaboards) to
California's Channel Islands
Santa Catalina Island
Other Islands
Special Destinations

Peace of Mind ~ Full back-up equipment
Three air compressors
Two generators
EAN / Nitrox Fills On Board

Tanks & Weights Provided or Bring your own.

Large, comfortable galley


Clean-Water Mask Rinse

Air Conditioned for Passenger Comfort

Same professional, experienced Crew for over 10 years

---
Ports O' Call ~ San Pedro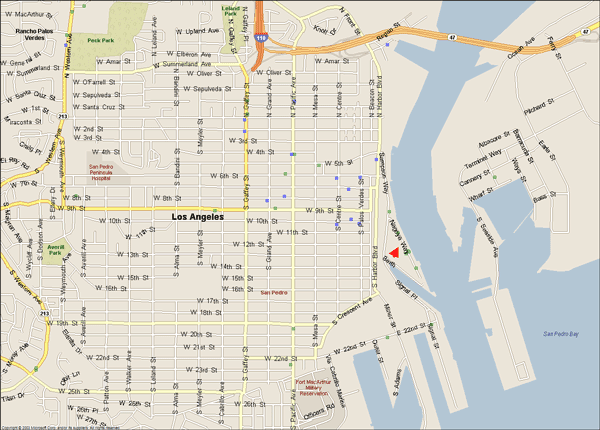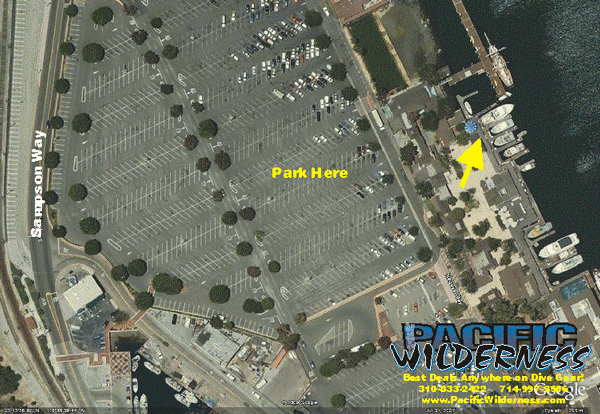 Take Harbor Freeway South (I-110).
Until it ends - It will end on "Gaffey Street"
in San Pedro - Merge left onto Gaffey

Continue on Gaffey 6 blocks to "6th Street"
- Turn Left onto"6th Street"
Continue down past "Pacific Avenue" to "Harbor Blvd"
-Continue through Harbor Blvd" onto "Sampson Way"
This is the Entrance to "Ports O' Call Village.
Veer right onto "Sampson Way" and park in the area of Berth 77.
(Look for yellow sign in parking lot "Berth 77")
Walk straight under the entrance arch and
Gangway to the SAND DOLLAR is to the
left and just behind building "P-27"
They are at Berth 77 C - Spirit Cruises
** Dock Carts are available at the boat **
Copyright © 1996-2010
Pacific Wilderness, Inc.
All Rights Reserved