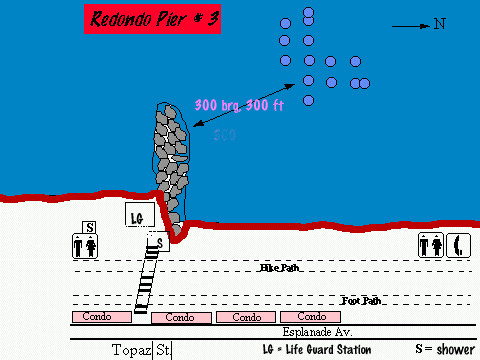 The Old Redondo Pier # 3 site is a collection of old pilings left over from a once-busiest of the Redondo Beach Piers -- Pier #3. In the early 1900s, Pier # 3 served as a seaport that loaded and off-loaded cargo to/from ships. There was a railroad that ran right up to the end of the pier which was nearly 500 feet long. There was also a restaurant at the end of this pier.

The pier was destroyed by a severe storm in 1926 and now, all that remain were about 20 pilings that rise 10 feet off the sandy bottom. These pilings, fortunately, are divers-delights. The pilings are covered by beautiful and colorful sea anemones. Nudibranchs, octopii, sheep crabs, welks and other interesting marine life frequent these pilings. For divers who love collecting artifacts, the sandy bottom near the pilings have yielded many turn-of-the-century artifacts such as bottles and dishes, some bearing insignias unique to the era.

The outermost pilings are about 200 yards off shore right at the edge of the Redondo Submarine Canyon, in about 40 feet of water. North of the pilings, the canyon begins to drop off gradually. The pilings closest to shore are about 100 yards from the beach in 30 feet of water. To locate the pilings, swim on the surface to the end of the jetty and from there, descend to the bottom and swim on compass heading 300 (Northwest direction) for about 300 feet. If you find yourself dropping into the canyon, that means that you have missed the pier. In this case come back up the slope and head south. Using a long tether line of about 15 feet, buddy pairs may have a better chance of locating a piling on the first try. The pillars are quite far apart (30 to 50 feet). The center column of pillars are marked, each with a green tag. Each tag has holes punched in it to indicate which pillar it is. For examples, two holes in a tag indicates pillar # 2.

Water entry is relative easy in light and moderate surf. Visibility is generally good (15 to 30 feet) with occasional 40-45 feet during deep water upwelling. Usually there is no noticeable current but once in a while there maybe a light southerly current along shore. Do be careful of boat traffic while on the surface or as you are ascending since you are out quite a long way from shore. A flag and float is therefore recommended.



Pertinent Information:
EMERGENCY - 911
DAN 919- 684-8111
POLICE 379-5411
FIRE STATION 318-0663
HARBOR PATROL
318-0632
LIFE GUARD 372-2166
COAST GUARD 980-4444
USCG VHF CHNL 16
WASHINGTON MED CTR CULVER CITY, CA
636-1133

DIRECTIONS

From San Pedro, take the 110 Frwy North to Pacific Coast Hwy. Go North
on PCH through Torrance, to Redondo Beach. Turn left on TOPAZ St.
to Esplanade Av. Parking is free but limited, use public beach access
at the end of TOPAZ St.

For further details refer to Thomas Guide page 672, grid H6.