Once you get to Casino Point you'll find everything is very "Diver Friendly". There's an Air Fill Truck located next to the Casino that's open most Fridays, Saturdays & Sundays. You can check with Catalina Divers Supply to see if it's open when you'll be there by calling 1-800-353-0330. You'll find Diver Storage Lockers & Rest Rooms at the Casino as well.
The Ocean access at Casino Point is extremely easy now that the steps have been added at the entry point. The only advise I can give on entering is to watch the divers before you as they sink below the water - learn from their entry. The steps make it easy, but be sure to use the handrails (they're there for a reason) - the steps can get slippery! Also, be sure to "time the surge", so you don't get pushed back onto the steps at the waterline. Two simple bits of advise that should make your a little easier.
Casino Point is one of the most popular dive sites in California and deservingly so. The city of Avalon has done a great job making the city and Dive Sites very Diver friendly.
The Dive Site itself is easily accessible via the stairway leading directly into the water from the walkway. Once in the water, the surf is usually calm or near calm and visibility is always pretty good (15-100'). Sea life is abundant and generally easily approachable. You'll find a lot of great photo opportunities at Catalina, so bring a camera if you have one.
You'll find several small wrecks within easy swimming distance of the stairs and lots of other points of interest throughout the Underwater Park. My advise is to just Dive and enjoy the view, you'll come across many interesting things on every dive!
Casino Point (Avalon Underwater Park) is a marine preserve and I could swear the Sea Creatures are well aware of it. Perhaps it's the glass bottom Boats feeding them every day to lure them closer for the tourists...or perhaps it's years of protection that has been instilled in their genetics. Whatever the case, you'll find the sea life very curios and unafraid to approach or be approached by divers. This is great sometimes...sometimes not if you're trying to take pictures.
There's a reason people travel from all over the world to Dive Catalina Island and it's Kelp forests, they're beautiful and unique - and often taken for granted by us California Divers! I can tell you personally, based on many years of experience and a healthy resume of world dive travel, that Catalina Island is a World Class Dive Spot and should be appreciated for what it is. I applaud those who have protected this tiny Treasure in the Pacific and you'll not regret diving this tiny Island. One group doing a great job protecting this Island is Catalina Conservancy Divers - check them out by clicking the link.
You'll find a healthy dose of Pacific Coast sea life here at Casino Point including; kelp fish, horn sharks, Garibaldi, Bass, Opal Eye, Sea Urchin, Gorgonian, Rock Scallop, Rock Wrasse, Sargo, Senoritas, Spiny Lobster, Treefish, Anemone, Sea Cucumber, etc.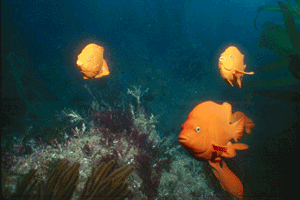 Casino Point is set up especially for Divers. You'll find all the amenities including; restrooms right there at the site, Air Fill station, Food, and anything else you may need within easy walking distance.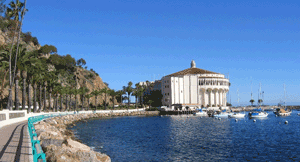 If you wish to stay overnight in Avalon - Below is a List of some of the Islands "Diver Friendly" Hotels
Hotel Atwater
Baggage service to boat. Packages available. Prices $74 to $369
Call 800-626-0720
La Paloma and Las Flores
Shuttle from boat, wash down area, storage. Prices $79 to $229
Call 800-310-1505
Pavilion Lodge
Baggage service to boat. Packages available. Prices $94 to $279
Call 800-626-1496
Seaport Village Inn
Dive gear transport from boat landing, gear wash down area, heated patio spa, BBQ picnic area and classroom gear storage. Prices $79 to $407
Call 310-510-0344